La Razon 21/9/2014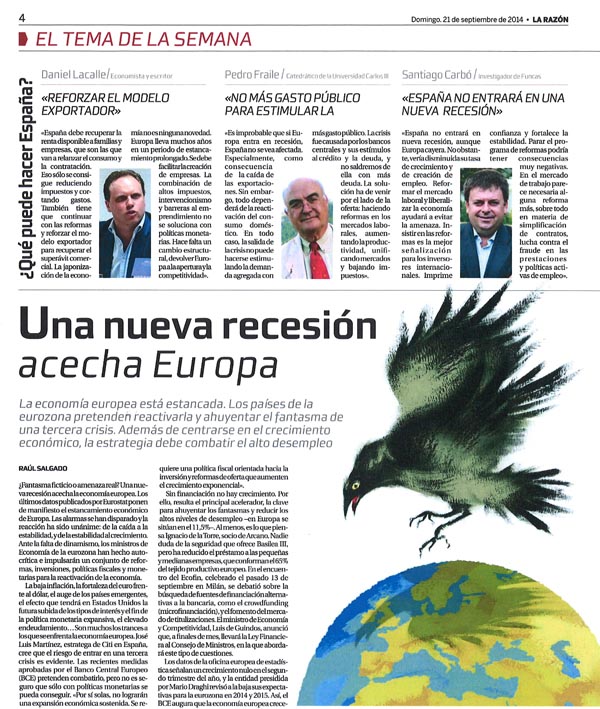 España debe recuperar renta disponible a familias y empresas que son las que van a relanzar el consumo y la contratación. Eso solo se consigue reduciendo impuestos y cortando gastos innecesarios. Continuar con las reformas y reforzar el modelo exportador para recuperar el superávit comercial.
Europa lleva muchos años en un periodo de estancamiento prolongado. La japonizacion de Europa no es una novedad, llevamos mucho tiempo -desde 2007- y viene derivada de unas políticas de estimulo y planes industriales de 2007 a 2010 que han generado unas de las presiones fiscales y costes energéticos mas altos de la OCDE, enorme sobrecapacidad y una deuda y gasto publico insostenible, que es superior al 49% del PIB.  La combinación de altos impuestos, intervencionismo y barreras al emprendimiento no se solucionan con políticas monetarias. Hace falta un cambio estructural, devolver Europa a la apertura, la competitividad y facilitar la creación de empresas, la sustitución de sectores decadentes como la construcción por mayor valor anadido e innovacion real, privada, no esas inútiles políticas estatales de I+D que solo suponen gasto político y deuda.
Important Disclaimer: All of Daniel Lacalle's views expressed in this blog are strictly personal and should not be taken as buy or sell recommendations.