Libros recomendados
¡Post actualizado!
He querido reunir en este post aquellas lecturas que considero puedan ser de vuestro interés. Como veréis, los temas son variados y el abanico es amplio.
Decía Cervantes que "El que lee mucho y anda mucho, sabe mucho y ve mucho".
Esta es mi contribución para que celebréis el Día del Libro, Navidades, etc., cualquier ocasión en la que tengáis que hacer un regalo, un libro siempre es buena idea. Con las referencias que aporto a los amantes de la economía, la política, las finanzas,…Muchos de los títulos que aparecen en inglés también se encuentran traducidos al español. Si os interesa, buscad que seguro están.
Espero que os guste y os sirva de orientación.
Ahamed, Liaquat, Lords of Finance: 1929, The Great Depression, and the Bankers who Broke the World. Penguin Press, 2009.
Bartholomew, James. The Welfare of Nations. Biteback Publishing, 2015.
Biggs, Barton. Hedge Hogging. Wiley 2006
Biggs, Barton. Wealth, War and Wisdsom. Wiley, 2009
Blanco, Maria. Las Tribus Liberales, Deusto 2014.
Bossidy, Larry, Charan Ram. Execution. The Discipline Of Getting Things Done. Cron Business, 2006.
Butler, John. The Golden Revolution. Wiley, 2012.
Calhoun, Jack, 12 Investment Myths:Why Individual Investors are Failing Miserably and How You Can Avoid Being One of Them, Robert D. Reed Publishers, 2011.
Cooper, George. The Origin of Financial Crises: Central Banks, Credit Bubbles and the Efficient Market Fallacy, Harriman House, 2008.
Fabozzi, Frank J. Bond Markets, Analysis and Strategies, Pearson, 2006.
Fernández, Pablo.Valoración de Empresas, Gestión 2000, Barcelona, 2001.
Fisher, Philip A. Common Stocks and Uncommon Profits, Wiley, 2003.
Graham, Benjamin. El Inversor Inteligente. Deusto 2007
Hayek, Friedrich. The Constitution of Liberty, University of Chicago Press, Chicago, 2011.
Huerta de Soto, Jesús. La esencia de la Escuela Austriaca, Universidad Francisco Marroquín, 2012.
Hudson, Edward. A. Economic Growth: How it works and how it transformed the world. Vernon, 2015
Huntington, Samuel. The Clash Of Civilizations and The Remaking of World Order. Free Press, 2002.
Ignatieff, Michael. The Lesser Evil: Political Ethics In An Age Of Terror. Edinburgh University press, 2004.
Laje, Agustín, Márquez, Nicolás. El Libro Negro de la Nueva Izquierda. Grupo Unión, 2016
Lewis, Michael, Boomerang: Travels in the New Third World, Norton.
Lewis, Michael, The Big Short: Inside The Doomsday Machine,     W. W. Norton & Company, 2010.
Lewis, Michael: Flash Boys. Penguin 2014
Lopez-Zafra, Juan Manuel. Retorno al Patron Oro. Deusto 2014.
Mallaby, Sebastian. More Money Than God: hedge funds and the Making of the New Elite, Penguin, 2010.
Mills, Robin. The Myth Of The Oil Crisis. Prager 2013.
Mauldin, John & Tepper, Jonathan. Code Red. Wiley, 2013
Martin, Felix. Money, the Unauthorized Biography. Bodley
Montier, James. The Little Book of Behavioral Investing. Wiley, 2000
Munger, Charlie. The Complete Investor. Columbia Business. 2015
Nicholas, Joseph G. Market Neutral Investing. Bloomberg Press. 2005
Ontiveros, Emilio y Cano, David, El Ahorrador Inteligente. SLU 2014.
Ozihel, Harding, Financial Repression, Frac Press, 2012.
Pazos, Luis. Desigualdad y distribución de la riqueza: Mitos y sofismas. Diana México, 2016
Pettis, Michael. The Great Rebalancing. Princeton university press, 2014
Rallo, Juan Ramón. Una alternativa liberal para salir de la crisis. Deusto, Barcelona, 2012.
Rallo, Juan Ramón. Una Revolución Liberal Para España: Anatomía de un país prospero. Deusto 2014
Reinhart, Carmen and Rogoff, Ken. This Time Is Different: Eight Centuries of Financial Folly, Princeton University Press, 2011.
Reinhart, Carmen and Rogoff, Ken. A decade of debt, Peterson Institute, 2011.
Rodriguez-Braun, Carlos, Gonzalez Vicente, Pedro Pablo, Macias Valle, Olvido. Economía para Andar por Casa (y Mas Economía para andar por Casa). LID. 2013, 2014
Rothbard, Murray N. Poder y Mercado. Unión Editorial, 2015.
Schiff, Peter. The Real Crash: America's Coming Bankruptcy, St. Martin's, 2012.
Peter Schiff. How anEconomy Grows and Why It Crashes. Wiley, 2010.
Sefrin, Hersh. Beyond Greed & Fear, Oxford University Press, 2007.
Sorkin, Andrew Ross. Too Big to Fail: The Inside Story of How Wall Street and Washington Fought to Save the Financial System – and Themselves, Penguin, 2011.
Sowell, Thomas. Economía Básica. Deusto, 2013
Stowe, John D, Robinson Thomas R., Pinto Jerald E., McLeavey Dennis W. Equity Asset Valuation. 2002, 2007
Yergin, Daniel. The Prize, Free Press, 2008.
Yergin, Daniel. The Quest, Penguin, 2012.
Juan Ramón Rallo. Contra la renta básica, Deusto 2015.
Francis Fukuyama. Orden y decadencia de la política. Deusto 2016.
Francis Fukuyama. Los orígenes del orden político. Deusto 2016.
Dani Rodrik. Las leyes de la economía. Deusto 2016.
George A. Akerlof y Robert J. Shiller. La economía de la manipulación. Deusto 2016.
Hayek  F. A. Socialism and war.
Buchanan, James. What should economists do?
Daron Acemoglu y James A. Robinson. Por qué fracasan los países. Deusto 2015.
Javier Andrés y Rafael Domenech. En busca de la prosperidad. Deusto 2015.
Albert Albareda y David Galán. El pequeño libro de los grandes inversores. Alienta 2016.
JR: Paulson. Negociando con China. Deusto 2016.
Leopoldo López. Preso pero libre. Península 2016.
Gloria Álvarez y Axel Káiser. El engaño populista: por qué se arruinan nuestros países y cómo rescatarlos. Desuso, 2016.
Mago More. Superpoderes del éxito para gente normal. Alienta Editorial.
Anxo Pérez. Los 88 peldaños del éxito. Alienta Editorial.
Benn Steil. La batalla de Bretton Woods. Deusto.
Leopoldo Abadía. Yo de mayor quiero ser joven. Espasa.
Ludwig Von Mises. El socialismo, análisis económico y sociológico. Unión Editorial.
Rogelio López Guillemain. La rebelión de los mansos. Unión Editorial.
Manuel F. Ayau. Sentido Común, 50 años de congruencia liberal. Universidad Francisco Marroquín.
Alberto Mingardi. La inteligencia del dinero. Bliblioteca Libertad.
David. D. Friedman. La maquinaria de la libertad. Innisfree.
Bastiat, F. Panfletos económicos. Innisfree, 2013.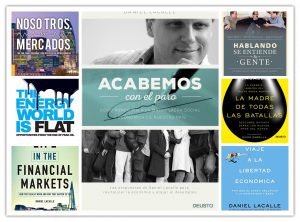 … Y por supuesto (mis criaturas), La Madre de Todas las Batallas, Viaje a la Libertad Económica, Nosotros los Mercados y, en inglés,  Life In The Financial Markets y The Energy World Is Flat, Hablando se entiende la gente, Acabemos con el paro y La Pizarra de Daniel Lacalle 🙂
Aquí una selección creada para El País: