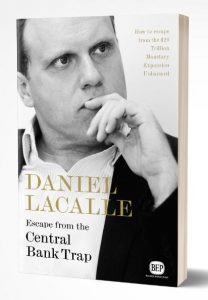 Escape from the Central Bank Trap. 
How to Escape From the $20 Trillion Monetary Expansion Unharmed
Daniel Lacalle
"The central bank trap is clearly anything but an easy one to get out of." "In addition to structural reforms to promote lower government spending and higher efficiency, Lacalle recommends tax cuts to let households and SMEs thrive".
"Daniel Lacalle offers the right mix of realism and optimism"
"To escape the trap of money printing, one has to understand why the trap didn't work to begin with. Lacalle is one of the leading next generation economists who can simplify the complex. He's neither a mainstream academic nor a flailing economic pundit. His teachings come from a market practitioner's perspective. This book is about the economic truth."

Keith R. McCullough. Chief Executive Officer, Hedgeye Risk Management
"Escape from the Central Bank Trap provides a penetrating framework for understanding the co-dependencies among today's monetary policy, the economy and the financial markets. Lacalle's book draws out how these co-dependencies developed, the risks that have since evolved, and outlines the necessary tough medicine needed to return to a more sustainable condition. By distilling today's complex economic and monetary challenges succinctly, Lacalle provides us with a road map that an economist, market practitioner, or anyone who cares about long term economic health can grab hold of."
Michael Purves. Chief Global Strategist, Weeden & Co.

"Cheap money becomes very expensive in the long run." With this quote, Daniel Lacalle captures succinctly the myriad fallacies associated with modern, activist, inflationist central banking and misguided economic policy more generally. This book is a tour-de-force expose and critique of many such popular policy delusions which might appeal to self-serving politicians seeking to avoid hard choices, but undermine the economic health of their constituents. As Daniel Lacalle makes clear, reality is a harsh mistress, even if this only becomes evident in the long-run. Indeed, this time-inconsistency between the interests of economic officials and their constituents is itself a huge part of the problem. Fortunately, in this book, Daniel offers up some compelling solutions. Anyone seeking a deeper understanding of the mess that central banks have created should read this book. Moreover, readers can take the proposed, practical solutions therein to their political representatives and apply pressure for the fundamental monetary and economic policy reforms required to "escape from the central bank trap."
John Butler, Economist and author of "The Golden Revolution"
Summary:
 Central banks do not print growth.
The financial crisis was much more than the result of an excess of risk. The same policies that created each subsequent bust are the ones that have been implemented in recent years. This book is about realistic solutions for the threat of zero-interest rates and excessive liquidity.
The United States needs to take the first step, defending sound money and a balanced budget, recovering the middle-class by focusing on increasing disposable income. The rest will follow. Our future should not be low growth and high debt. Cheap money becomes very expensive in the long run.
There is an escape from the Central Bank Trap.
Biography:
Daniel Lacalle is a PhD economist, chief investment officer at Tressis Gestión, and professor of global economy. Holds a PhD in economics, the certified international investment analyst title, a post graduate degree in IESE, and a master's degree in economic investigation (UCV). He is a member of the advisory board of the Rafael del Pino Foundation, and professor at IE business school and the Institute of Stock Market Studies (IEB). He was ranked one of the Top 20 most influential economists in the world in 2016 (Richtopia).