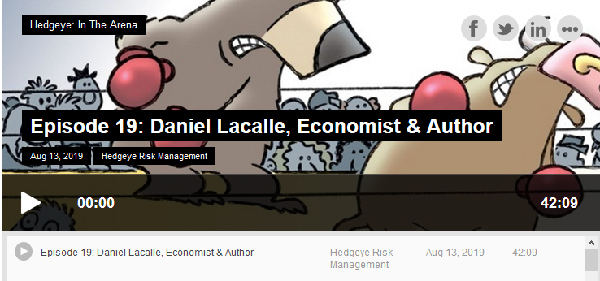 This new episode of In the Arena features a timely and insightful conversation with author, economist and fund manager Daniel Lacalle.


Lacalle discusses a number of important topics including:
Whether the U.S. made a mistake cutting interest rates
Chinese currency manipulation and global economic implications
The slowdown in the Eurozone and ECB actions
Risk of global recession
Lacalle's thoughts on the Fed cutting interest rates:
"I think that there was no logic in cutting rates. I think that what many of us have warned, which is that if you cut rates in an economy where the GDP is growing at 2.1% where unemployment is 3.6% where core inflation is at 2% the message that you're giving to the market is not good. The message that you're giving to the market is that you know, something that is much more negative than what people have in their estimates.
Instead of giving a message of confidence, you're giving a message of of a currency war that in fact the only reason why you decide to cut rates is because you try to preempt something that the ECB or the Bank of Japan or the People's Bank of China are going to do… instead of generating a level of a dovish policy that supports asset valuation and that helps the economy stay sort of afloat below expectations but out of recession we go into an all out currency depreciation war and that everybody knows is a very, very bad signal for the economy in general."
Why he thinks the U.S. wouldn't be the worst bet over the next 6-12 months:
"I think we continue to misunderstand the strength of the U.S. economy, having switched to be an almost energy independent, having switched to an economy that does not need to have massive export growth in order to be a 2% growth economy. And intellectual property is a massive percentage of GDP right now, it's more than 30%. So I think that all those things make the U.S. economy better positioned for the technological race and the slow down, in my opinion now with all of its challenges, high debt, high government spending and weakening and weakening of some of the indicators obviously again, it is a game of relatives."
You can follow Daniel Lacalle on Twitter @dlacalle_IA and read his recent posts or check out his books HERE.