"However the Germans vote on 22 September, Berlin's attitude to the EU is not going to change much" – Charles Grant
Two weeks ago, Angela Merkel and Peer Steinbrück , leading candidates for German Chancellor,  held an election debate on TV. It was a quiet event, without fanfare or big accusations. There were no negative comments to the policies of budget cuts, rather the opposite. Commenting this with German friends, they told me: "The obsession with the so-called austerity is a problem in other countries, here people understand that budgets must be balanced".
Merkel ended the debate with a speech that included an interesting sentence: "It's been four good years ". Counting with a public account surplus, expected growth of 1.7% in 2014, and the lowest level of unemployment in decades, 6.8%, she was right.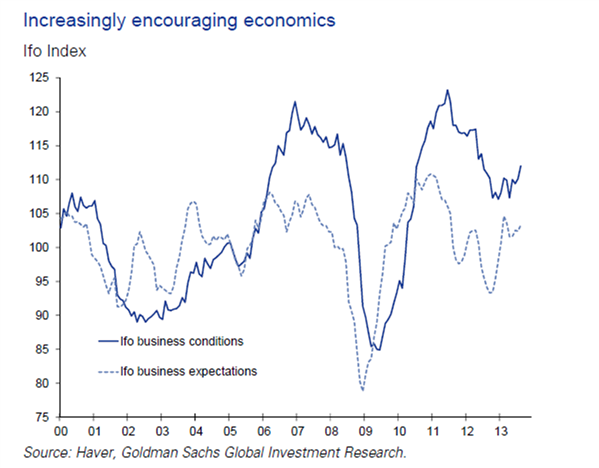 The elections, even with different combinations of coalition, will be, with high probability, a success for Merkel. And that's good. None of the major parties, even assuming a grand coalition, question the spirit of the policies that have been carried out in the past decade. Same as Germany's support to the European project, but there are important elements that have relevant implications for other countries.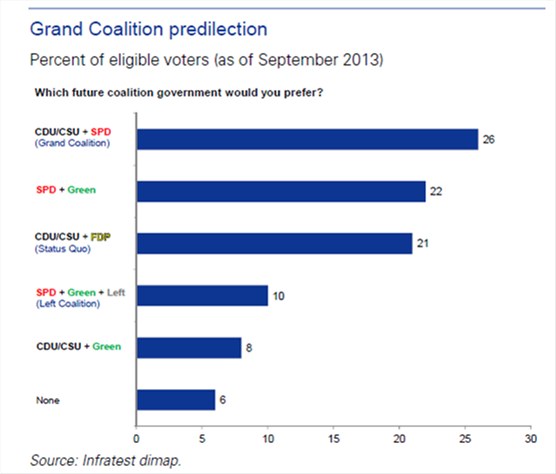 The Banking Union: the model that is being sold in the peripheral countries seems like a kind of idyllic solution to a bloated banking system (320% of GDP in Europe) with significant capitalization problems, but in Germany this banking union is rightly considered 'debt monetization through the back door" and cannot be pushed forward while banks have still not carried out the necessary recapitalization processes, including the German ones.
Energy Policy: There has been a great controversy in Germany about the huge increase in electricity tariffs to consumers due to giant solar subsidies. After 100 billion euros in subsidies, final tariffs to consumers have risen by 50% between 2008 and 2013, with the green component (EEG) more than doubling. Merkel is already considering cuts to subsidies and there are strong concerns about the risk of social exclusion for citizens after cutting supply to 60,000 customers who could not pay the exorbitant bills. This can have serious implications on the energy policy of the European Union, directing it towards competitiveness instead of climate change targets.
Bailouts to other countries and deficit targets: a large part of the political debate has focused on the risk of another bailout package to support Greece and Der Spiegel criticized the government for giving figures of the German contribution to help troubled countries that were much lower than the real ones. It is difficult to see the government after the elections being more relaxed about bailouts and missing deficit targets.
Germany has accepted huge cuts since the "2010 Plan" implemented by Schroder in 2003 with the goal of restoring competitiveness and economic stability, but Germans perceive that the other countries are not willing to take such measures and the benefits of the German policy is going to the rescued countries, that is why 57% oppose giving more money for bailouts.European Central Bank : There is no major party that seeks to change the mandate of the central bank, and all seem against the possibility of a further cut in interest rates that could increase the excess of liquidity in the system and the perverse incentives for governments to continue avoiding reforms.
The perception that after the elections we will see a relaxation in the German position on Europe is not evident in any of the political manifestos. Because the view in Germany is that there is no firmness, just total acceptance of countries that miss targets.
Of course, as the European recovery is confirmed, with an estimated growth of 1.1% in 2014 (Eurozone), and all countries in positive growth territory in that year, even if it is modest, we will see less need for aggressive budget cuts and austerity measures. However, reforms are still needed, especially with countries that spend up to 20% more than they collect.
The German model has been much more effective to get out of the crisis than the French proposals to spend its way out of recession. In 2013, France will generate an additional deficit of 4% of GDP, with unemployment topping 10.9%, while Germany generates surplus and lowest unemployment in decades. It's interesting, because Germany and France had similar deficits and debt levels only ten years ago. Germany took the path of reforms and France decided to "stand and wait".
The big hurdle is job creation. Germany launched the mini-jobs program and achieved two objectives, switching low-productivity sector jobs into new ones, providing training from a work environment, and secondly reduce unemployment to 6.8%. It was a positive formula to relocate employees out of declining sectors into high productivity ones.Another obstacle to job creation is the excessive tax burden, close to 52%. In these elections Angela Merkel's proposal is to lower taxes after many years of budget adjustments.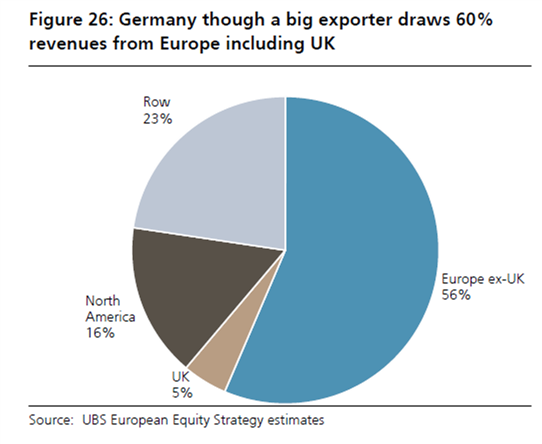 Germany is nothing without the rest of Europe, and vice versa. It is the second country after France for peripheral exports. This trade should continue to bring Europe out of recession and back into growth.
The German commitment to support Europe will stand firm no matter who wins. But it will not be a blank cheque like that of 2008, which led the EU to spend 1.5% of GDP in stimulus to destroy four million and a half jobs.Germany experienced the mistake of those stimulus plans in 2008 and in June 2010 introduced the largest spending cut plan in sixty years, the Zukunftspaket (package of measures for the future) along with a medium-term financial plan (2010-2014), which included cuts to achieve a maximum 0.35% deficit. More than a third of those cuts occurred in the social security and public administration.
Despite the crisis, the government deficit fell from 4.3% in 2010 to a surplus of 0.2% in 2012. And having met the objectives of 2014 more than two years early, finance minister Bertrand Benoit announced new cuts of 6.1 billion euros in July this year. The policy of keeping reforms is absolutely essential for a strong Europe, to avoid a collection of oversized governments in indebted and inefficient countries.The German elections, if Merkel wins, will provide continuity for the rest of Europe. And that's good. The recovery process cannot be achieved by adding debt and deficits all over. It has to be made surpassing individual goals … This is how the European Union strengthens. The policy of fiscal prudence, wrongly called austerity, must continue.