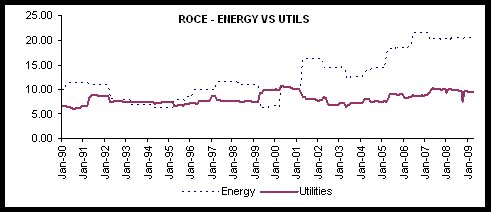 Just wanted to share some thoughts as I am seeing brokers call a bounce on utilities based on mean reversion and sector rotation. 
Despite being the biggest underperformer YTD, the utilities sector has four mounting problems:
a) €65bn to refinance to 2010
b) €35bn in asset disposals to keep single A rating
c) ROCE keeps sliding after five years of M&A at peak multiples
d) €20bn in capital increases (Enel, Gas Nat, Snam, Vestas, SSE, Centrica…)
Look at the chart attached, because it's scary. The utilities have been re-rating year on year on commodity exposure, asset valuation increase from M&A and multiple expansion from new technologies (renewables) and at the same time it has become more cyclical, but with very inflexible capex (the sector spends 33% of its market cap every year on capex to deliver 3-4% EPS growth)… while ROCE has been deteriorating steadily (see chart).
On top of this, the sector trades on "growth" multiples (7x EV/EBITDA), but considering the loss of industrial demand and the forward cruve on spark and dark spreads, we could see a continued de-rating of the sector to ex-growth multiples.