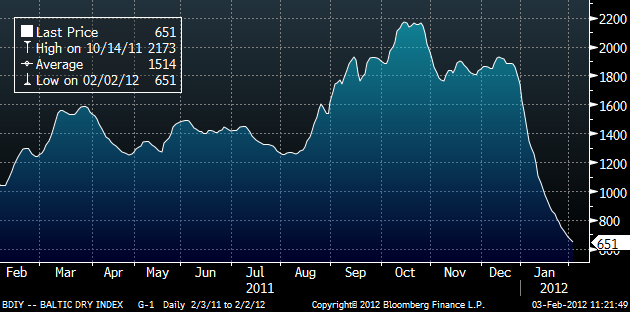 The Baltic Dry Index is down 65% this year and at the lows of 1986.
Main reasons:
a) Oversupply of vessels. While supply has increased an average of 12% pa 2008-2012, demand has been weakening -3% pa.
b) Weaker demand from China, added to high levels of stockpiles all over the OECD, with lower iron ore demand after strong inventory build in December. Inventories stand at 5 year highs. Just the outlook of dire demand from aluminium smelters is a big worrying factor. Despite the cuts in capacity of Alcoa and Norsk Hydro, the outlook for aluminium production is weakening for 2012-2013.
c) Weather issues in Australia driving lower vessel utilization (coal supply disruptions).
d) Commerce trends weakening from LatAm to Europe (-7%) and Asia to Europe (-6%) at the same time as new building of houses, offices and infrastructure is slowing down all over the OECD as a result of the overcapacity created by the stimulus packages (mostly devoted to construction) of 2007-2010.
The Baltic Dry Index neeeds to reflect the weakening outlook for metals demand, with Chinese steel demand growing by 4% in 2012 from 10.5% in 2011 and significantly below GDP growth of 8.4%.
In addition, the delay of the 90mtpa Siere Sul iron ore project for 2016 (from 2014) adversely affects the shipping outlook.
However, brokers still expect c6.5% growth of seaborne bulk commodity supply in 2012-13, driven by 9%+ growth for iron ore and c7% for thermal coal.
On vessel overcapacity, consensus expect the fleet to grow by 13.5% in 2012 and c6% in 2013, suggesting that the shipping market will start to tighten ONLY towards the end of 2013 IF demand picks up.
Rates for Capesize have dropped below $6k and the Panamax spot at $6.5k/day can barely cover operating expenses. Rates are below cash break-even for the largest part of the sailing fleet, and China seems very happy about it, as they drive most of the excess supply and benefit at an aggregate level as a lower cost.
Going forward, we will likely see a small "dead cat bounce" on the Baltic Dry Index once we see the unwinding of the China inventory build that happened pre-New Year holiday and once we see an improvement in weather conditions in Australia, but the underlying deep problem, overcapacity in vessels and massive unused and unusable infrastructure and construction, remains. The fleet is built for a growth that is unsustainable and unreal. The world's iron ore consumption is not going to grow 12% pa to offset the overcapacity. I believe the small uptick, unfortunately, will be used by some vessel owners to take out some capacity (not enough) and maybe raise marginal day rates, still nowhere close to 2007 levels.