The Adriza International Opportunities fund has risen by 12% since early November
The portfolio includes mostly US companies and defence, healthcare and industrial companies.
The pharmaceutical and military industry sectors have boosted this year´s net asset value
"The world was gloomy and there was no hope before my victory. Now, the market is going up by about 10% and consumers will spend around a trillion dollars at Christmas, "says Donald Trump, who has been riding the Wall Street rally in recent weeks. An opinion shared by Daniel Lacalle, the Fund manager who predicted this wave with Adriza International Opportunities, the fund that he manages at Tressis.
The fund accumulates a rise of 4.5% in 2016.
"The fund is overweight in US securities that are not very typical for the vast majority of managers, with companies that have come to be ignored by analysts," Tressis' investment director tells Bolsamanía.
Lacalle insists that they are companies that "both in terms of valuation and business positioning would be very well positioned for a Trump win". Although "if Clinton had won, we would have made instant changes to the portfolio, with a reduction in weight in the United States. Now, the fund will remain focused on the US economy, "he admits.
The fund has the investment universe all over the world, but 80% of the portfolio is invested in US companies. 10% in the Eurozone, 6% in the United Kingdom and the rest in Asia, according to Morningstar statistics updated as of November 30, and the manager confirms that they have not changed.
The main position of the vehicle is the US health insurance company UnitedHealth , with 7.2% of the portfolio, followed by the group of aerospace and military industry Lockheed Martin , with 6.7%. Its competitors General Dynamics and Orbital ATK , with more than 4%, also have an important weight.
The other major side of the fund is the pharmaceutical sector, with one in five euros invested. In addition to UnitedHealth, the main investment also appears McKesson Corp with 3.7%. The list of stocks that have more exposure are McDonald's , with 4.25%; the engineering and construction holding company KBR , with 4.1%; And food multinational Campbell Soup, with 3.9%. In all cases, US stocks.
"They are companies that benefit from the expectations that the demand-side policies of Barack Obama will shift to supply-side policies," says Lacalle. A rotation he believes would necessarily have happened "The United States needs supply-side policies such as tax cuts and private-financed infrastructure spending aimed at the defence industry and capital-intensive sectors , "  says Lacalle.
"In my micro analysis, Obamacare is going to have to be eliminated or restructured. The change will benefit companies in the sector, which will have more market discipline and competition, lowering premiums".
The stock selection philosophy used by the Adriza International Opportunities Fund is neither value nor nor growth. According to Lacalle the orientation it is to look for companies in terms of 'total shareholder return' (TSR) . "These are stocks that combine respect for the shareholder with a sound balance sheet, that distribute dividends through surpluseswithout resorting to debt or capital increases," he points out.
Before identifying a stock that fits his vision, he performs a macro analysis to "identify opportunities by sectors, and looking for companies that match our philosophy." With these criteria, he anticipates that by 2017 he will increase the weight in European consumer companies, although he will remain "underweight Europe, where there are many political risks".
In addition, he believes the Federal Reserve will take a more aggressive stance next year, with changes in the annual committee rotation (FOMC). "It is urgent that the Fed raises rates and returns to a reasonably appreciated dollar. I expected two hikes in 2016, but they always fall short. In 2017 there will be more hawks in the Fed, which should be supportive for my views".
Article published in Bolsamania.com in Spanish
Daniel Lacalle is PhD in Economics and author of "Life In The Financial Markets" and "The Energy World Is Flat" (Wiley)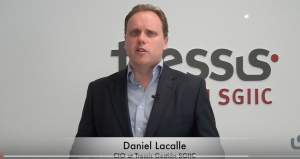 . "