De-industrialization in Europe is slow, painful but relentless. The main reason for this remains in the excessive cost of energy that destroys competitiveness. Why does this happen when there is plenty of spare capacity, diversification of supply and renewables are supposed to reduce the impact of high oil price and gas?
Look at this…Wholesale power prices in Germany 2008-2012: -53% (all-time lows), -33% from 2007 levels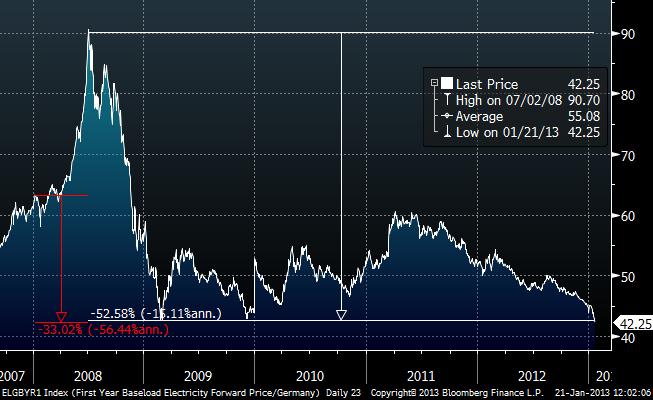 Tariff to consumers in same period +25%.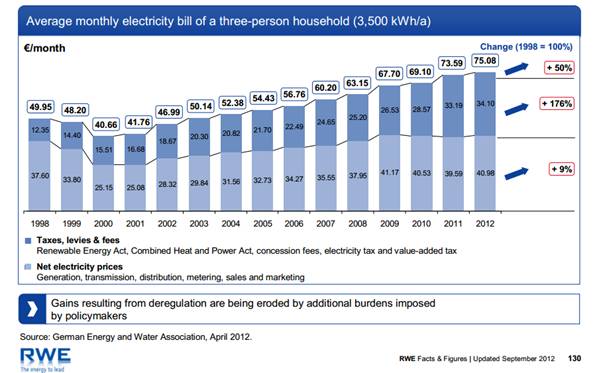 In Spain the situation is the same: Tariffs have increased 34% while wholesale prices have fallen more than 12%, just as renewable subsidies multiplied by 4x, reaching 8bn euro per annum, or 39% of the overall costs of the system.
Spot power prices have remained well below historical levels… despite gas prices, coal and oil price increasing in euros.
While subsidies became almost 40% of the costs
By the way, most of the increase in grid costs comes from the excess need of transmission infrastructure generated by renewables.
Support of renewables by country (CNE):
Thank you, subsidies!
More on the excess cost of subsidies: http://energyandmoney.blogspot.co.uk/2012/11/fossil-and-renewable-subsidies-careful.html
     Jan. 28 (Bloomberg) — German Environment Minister Peter Altmaier seeks to slow power price increase by asking owners of existing clean-energy generators to contribute via "small and temporary" reduction in subsidy payments that may total EU300m, he tells reporters in Berlin.
Potential delays in subsidy payments to new generators may, if measure is needed, reduce costs by EU500m
Altmaier says "we need planning security" for power price to help private consumers, Mittelstand cos.
Altmaier says wants to limit increase of renewable surcharge to no more than 2.5% a year from 2015.
EARLIER: Germany to freeze clean-energy fee to slow power price increase.