Watch the full video here.
In this interview we comment on the risks of emerging markets, rising imbalances, and a consensus bet on a weak US dollar and low rates that has led to large fiscal and, in some cases, trade deficits.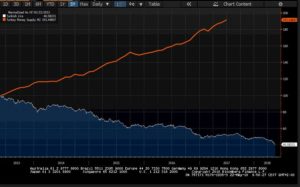 It could be the arrival of a "sudden stop". As I explain in Escape from the Central Bank Trap (BEP, 2017), a sudden stop happens when the extraordinary and excessive flow of cheap US dollars into emerging markets suddenly reverses and funds return to the U.S. looking for safer assets. The central bank "carry trade" of low interest rates and abundant liquidity was used to buy "growth" and "inflation-linked" assets in emerging markets. As the evidence of a global slowdown adds to the rising rates in the U.S. and the Fed's QT (quantitative tightening), emerging markets lose the tsunami of inflows and face massive outflows, because the bubble period was not used to strengthen those countries' economies, but to perpetuate their imbalances.