02/05/2014
US unemployment rate is at 6.2%…. or is it?
The US Labor Force plunged -806k to 155.421 million, up just +0.04% Y/Y (+0.73% Y/Y prior).
Most importantly, those Not in the Labor Force surged +988k to 92.018 million, which is the highest on record.
The Workforce Participation Rate fell to 62.81% in April (63.18% prior), the lowest since 1978.
The (U-6) "real" unemployment rate is 12.3%. (Source Boenning & Scattergood, US jobs data)
Additionally, according to the Bureau of Labor Statistics, 20% of all families in the United States do not have a single member that is employed.   62% of all Americans make $20 or less an hour at this point. The number of Americans receiving benefits from the federal government each month exceeds the number of full-time workers in the private sector by more than 60 million.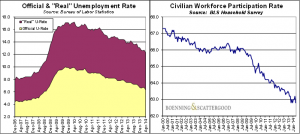 Nominal wage growth is also inexistent: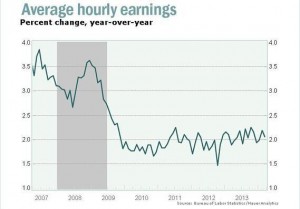 And no, the difference between unemployment and the decline of labour participation is not explained just by  "demographics" and retirements… at all: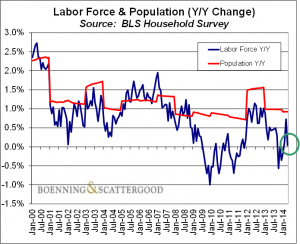 Meanwhile, debt reaches record level