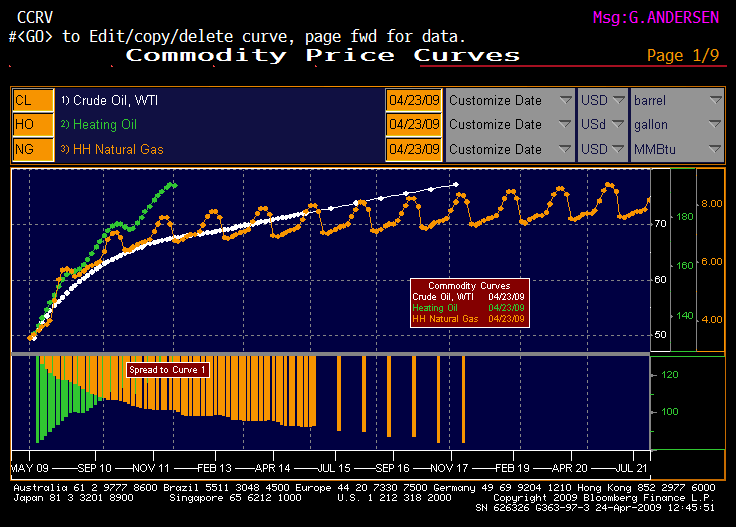 The crude contango is making big profits for oil majors as they make money from storage and selling forward, but oil remains posed to stay in the current range ($55-60) short-term. Conoco and ENI beat consensus by 15%… If these two beat witht heir exposure to domestic gas, imagine the rest. We're nearing a peak in refinery maintenance, and from here until the middle of the year, more capacity is expected to come online and generally crude demand follows that.
On supply news, an oil pipeline linking Russia's far east to China's northeast is set to start operation by the end of 2010, Zhou Jiping, deputy general manager of the China National Petroleum Corp. confirmed at a conference Thursday. The pipeline would run from Skovorodino, Russia to China's northeastern city of Daqing. Construction will start at the end of this month, according to earlier reports. The pipeline will transport 15 million tonnes of crude oil annually from Russia to China from 2011 to 2030. I believe no way this kind of pipeline is built in 12 months. Meanwhile, China says they will inject funds into oil companies for acquisitions (watch out E&Ps).
OPEC sailings are seen to drop by 232 kb/d (-1.0% w/w) to 22.17 mb/d (-7.8% y/y)for the four weeks ending the 9th May. OPEC oil in transit (excluding floating storage) is expected to fall by 5.58 mmbbls (-1.5%). North American long haul arrivals are forecast to continue their decline, falling by 512 kbpd (-8.7%) to  5.36 mb/d for the four weeks ending the 23rd May. European arrivals are expected to up by 357 kb/d (13.8% w/w) to 2.95 mb/d.
Pemex is rumoured will exercise its 30-day contract cancellation rights on some incumbent rigs in order to purge some high day rates and then re-contract at lower market rates.
Now, on UK gas, despite the strong messages on support for E&P spending in the North Sea, decline rates have steepened to c7% according to Venture.
 In terms of price dynamics, all UK gas contracts softened as the reduction in Norwegian volumes was replaced mostly by increases from Morecambe, and LNG through Teessport. The fight to tighten supply is ongoing, but de-stocking and spot LNG are offsetting Statoil and other suppliers' dropping 8mm3 off supply intraday.
 On US Natural Gas, Conoco results yesterday showed the extent of weak demand in the US (despite the beat on estimates) and the main problem is that the company is very slow in cutting capex. Although inventory data was mildly above consensus estimates the risk comes from a warmer summer in the midst of a weak demand and economic environment. I doubt we will see $2.5/MMBTU gas as some predict, but $3.5 levels are likely to be tested.
Finally, CO2 remains tight in the range.  EUA seems reluctant to test another time the 14€ level and yesterday movement shows how much it would be difficult to go over this resistance. Of course Carbon fell towards the end of the session amid weakening German power prices but the recent correlation with equity market in the wake of better economic condition looks to early and exaggerated in accordance to the real slowdown of European industrial production. So to go through 14.50€ and test 16.00€ will definitely need to have better economic indicators but not only improved equity market.
Keep rockin' and stay long energy… The contango works for you