White line is US GDP, orange – unemployment, red – oil demand, yellow – gasoline demand, green – gas demand.
US 2001 – 2011
GDP +6.3%
Gasoline demand +0.06%
Oil demand: +0.05%
Gas demand +2.6%.
Pretty impressive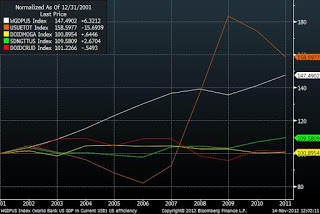 Now It's Illegal in the U.S. to Sell a 100 Watt Bulb: What Are the Implications for Power Demand?
The introduction of new lighting in the US will take aggregate demand growth to zero or negative over the implementation period, eg, the next 4-5 years. General Lighting is a big slice of the pie (like 12%) and a lot of the US simply never switched over to incandescent (eg, residential, and some commercial). Will have less of an impact on Europe.
Incidentally, many will make the argument that new iPads and gizmos will offset losses, we keep buying stuff and plugging it in. While true, the devil is in the details…new LED TV replacements are obliterating like-for-like consumption, particularly against gen 1.0 plasmas. New refrigerators and heaters are substantially more energy efficient.