"We must understand that the dependence on Russian gas is declining. Russia depends on Europe as its key gas consuming partner, if we analyse who needs whom the situation is very balanced. Moscow needs us more than we believe" 
Published in Spanish
here
Q: In the recent diplomatic crisis, Russian President Vladimir Putin has used gas as an instrument of pressure, we could even say that as a weapon of war … what is the role of gas in the current conflict?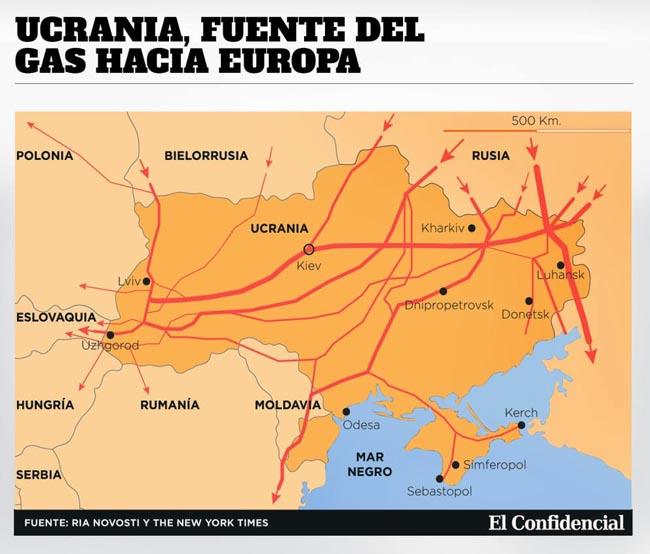 A: The issue of Russian gas has two components: first, the Ukrainian component. Ukraine's debt to Gazprom, amounting to $1.5 billion. Kiev was offered a discounted price of $256/mcm in exchange for its imports being maintained. That price is one aspect of the conflict. The Kremlin has already commented that the price could rise to $400/mcm. Ukraine is absolutely dependent on Russian gas, and has tried to develop its shale gas reserves but this is a project still in the exploratory phase, not a reality.Second, most of the pipelines going from Russia to Europe pass through Ukraine. As a result, Ukraine receives a compensation for the transit. If this is not paid, Ukraine can suffer dramatically, if it loses all the income it receives for the gas transit. At the same time, it could cause a disruption of exports into Europe.
Q: How would Europe cope with a possible cut? Is there a danger of scarcity?
A: Russian gas through Ukraine accounts for approximately 15% of the gas received in Europe. Supply cuts could be a threat, but Europe gas inventories are currently at record highs, with months of demand covered. This threat, therefore, is not so important, because also Europe can turn to Norway for added supply, liquefied natural gas (LNG) and Algeria. Since the conflict began, British Gas and Royal Dutch Shell have been prepared to bring more LNG ships to Europe.
Ukraine is not a large natural gas producer & has zero oil production.
Russia accounts for 12% of global oil production & 18% of global gas production.
Ukraine is a major transit route for Russian natural gas & oil to Europe. In 2013, Europe received 25% of its crude oil from Russia (3.8m b/d) of which 0.5m b/d was pumped through Ukraine.
Russia also supplied 33% of Europe's gas, with 80 bcm (~50%) of this piped through Ukraine.
Ukraine has four months of demand covered in storage and Europe has considerable oversupply. There is enough gas for months. Risk of supply cuts is very low, if not nonexistent .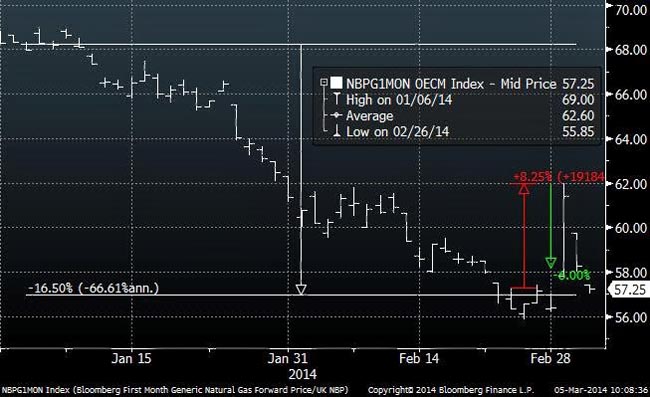 UK gas down at 57.10p/th is an indication of the loss of risk premium after the Ukraine crisis. The whole curve has moved down and NBP one year forward is down 8.8% when spot was up only 1.2% MTD. Not much of a market view of tightening supply.
Q: What about oil?
A: With regard to oil, the conflict is irrelevant. Ukraine would only have an impact if there were economic sanctions against Moscow, the kind imposed on Iran. Russia produces about 10 million barrels a day but its part of the production exported to countries that would be involved in the imposition of such sanctions is relatively low, and easily replaceable with OPEC oil.
Q. So fears spread over possible energy consequences of this conflict are unfounded …
A: The countries supplying liquefied natural gas have tremendous flexibility. Between high inventories or bringing LNG from Algeria, Norway, Qatar and Nigeria there is more than enough. There are many sources of gas available to offset any cut.
Q: So what is the true level of dependence on Russian gas?
A: There are two interesting points. Gazprom's dominance over the region in a geopolitical level and the poor design of the gas pipelines that pass almost all of them through Ukraine.Three projects, Nord Stream , South Stream and Nabucco aimed at changing this situation.
Countries with the highest Russian piped gas import dependency are Finland (100%), Czech Republic (81%), Slovakia (63%), Ukraine (60%), Poland (54%), Turkey (53%), Austria (52%), Hungary (49%), Belgium (43%) and Germany (40%) (according to BP World Energy for 2012). The commissioning of Nord Stream (Sept-2011) which runs from Vyborg in Russia to Greifswald in Germany is key to reducing the supply risk. Following completion of a second pipeline (Oct-2012), its maximum discharge capacity is 55 bcm pa or almost 15% of core EU gas demand. This is an important supply alternative that bypasses the Ukraine that did not exist in 2008/9.
Also, Gazprom is re-negotiating contracts with Europe because there is lower demand . It has even been negotiating with China to offset declining volumes to Europe. Gazprom exported 161bcm to Europe per annum and has been reducing this figure for years, re-negotiating the price of long-term contracts down with clients such as Italy or France and Germany.
We need to understand that Russia's position is a bilateral trade dependence with Europe.They would not do anything without Europe, because they do not have so much domestic gas demand. Additionally, the threat of shale gas in Ukraine or Poland, added to lignite and renewables, reduces the dependence massively.
It is important to understand that the dependence on Russian gas is declining. If we analyze who needs whom the situation is very balanced. Moscow needs Europe more than we believe.Qatar, Russia, Algeria … all gas producing countries have had to negotiate down the long term contracts because demand is getting weaker and there is oversupply of gas due to the use of renewable, coal, or the fact that more and more gas comes from diversified sources thanks to LNG.In 2013, UBS estimate EU LNG imports totaled around 52 MT or just over 20% of global consumption. Two more countries are 1-2 years from opening their first import terminal – Poland and Lithuania. Six other countries are considering building their first LNG import terminal – Croatia, Estonia, Finland, Germany, Slovenia and the Ukraine.
Q: Is the conflict due to energy?
A: Yes, it is as much a political conflict between pro-Russian and Ukrainian nationalists, as it is an energy conflict. The proof is in these three pipeline projects trying to bypass Ukraine. All actually fighting for their piece of the cake of the volumes of gas passing through the Ukrainian territory. The transit fees are becoming smaller, which means less revenues for Ukraine. And Ukraine needs desperately $25 billion to avoid default, and all the sources of revenue it can get.