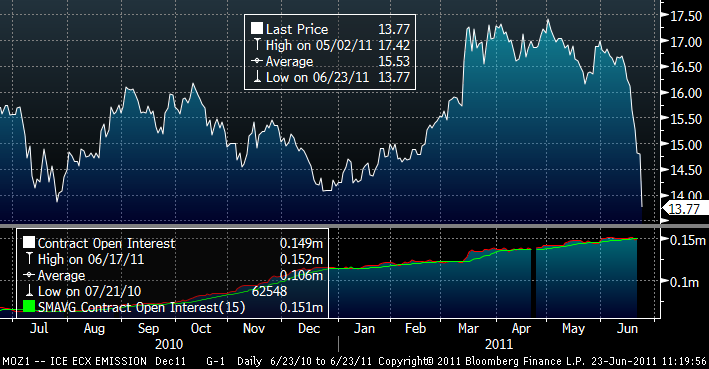 The price of CO2 emission rights in Europe has fallen 20% in two days. The move is the most drastic seen in the commodity space in a long while and can be attributed to the following dynamics:
a) Financial investors went long CO2 rights buying into the catalyst of the phase III of Kyoto, the stronger policies towards renewables announced by the EU and the infamous "Fukushima effect" (buying into renewable themes on a vague promise of policy changes and the German nuclear phase out).
b) At the same time, European industries, which were already long EUAs in 2009 and 2010, see less need to hedge because industrial demand is poor and there is excess supply.
The EU decision to make an early sale of 300mn allowances from a post-2012 reserve is also weighing down on prices.
Poland recently vetoed the proposal to toughen EU's emission reduction program, which is also adding pressure on the price.
Also, Greece's decision to auction off  their EUA reserves to raise funds for the government had a bad start last week, as the first auction on Wednesday saw only 4% of the available credits sold at €16.11/t. They are still selling. Panic can be partially explained also by the concern that, if Greece sells all its EUAs, what if Belgium, Portugal or others do the same?
c) Lower demand. Deutsche Bank has cut its 2011 forecast of CO2 price by 19% to €17/t and 2012 estimate by 14% to €19/t, largely driven by expectations of slower economic growth in Europe…
d) … Creating the perfect storm. When CO2 prices broke the support level of €15.5/t, we saw large stop losses because of the previously mentioned large options positions… and the stop-loss forced selling added to the governments selling and lack of demand has generated this slump.
At the core of the problem we have the issue that Europe's debt crisis affects CO2 markets the most because the European Union is 30% of the emissions of the world, but (hold on) 100% of the cost as no other country has adhered to emission trading schemes. Therefore, a slowdown in industrial production and a debt crisis that could delay the extremely aggressive and optimistic plans for a low carbon economy announced for 2050, added to the slow but sure slowdown in power demand is proving that a system that was artificially created (see my comment here) is causing the demise of a government-forced scheme that ultimately was only a tax, as emissions actually rose in 2010 despite all the good intentions.
As a very knowledgeable friend of mine says: "Investing in renewable themes right now is risky because everything is a donation".
Further read:
http://energyandmoney.blogspot.com/2011/01/some-energy-thoughts-for-2011.html
http://energyandmoney.blogspot.com/2009/10/careful-with-german-power-prices.html
http://energyandmoney.blogspot.com/2009/05/reserve-margins-are-clearly-acceptable.html