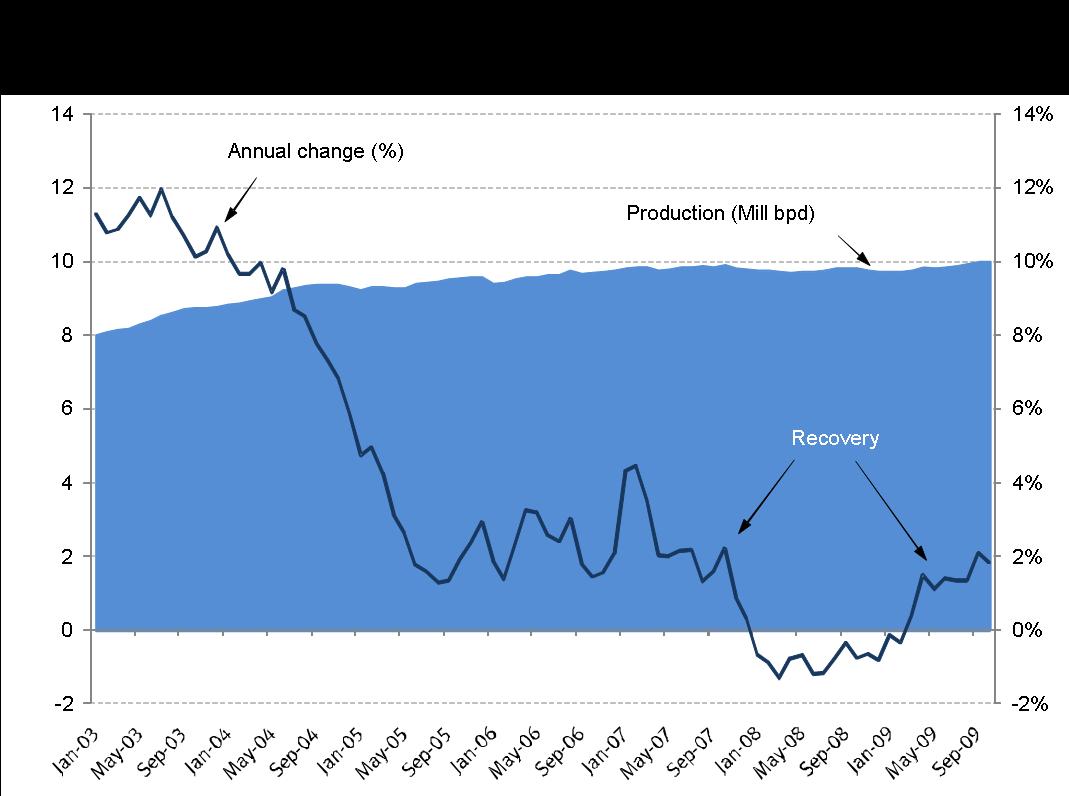 (Graph above shows Russian Crude Production). From an article I published in Cotizalia on Dec 3rd 2009.Today we saw Rosneft production figures reach a disappointing 2.119mbpd (only +1.5% y-o-y). This includes Vankor production at 160kpd in October (104kbpd in 3Q).
While Vankor crude output is expected to increase from 3.5MMt this year to 11.5-13.5MMt, production in the rest of the upstream portfolio (including the Priobskoye field) is expected to go down, leaving 2010 output "close to 2009 levels". This is new and somewhat disappointing, taking into account that previously the company had expected crude output from the Priobskoye field to reach peak in 2012. This suggests that output growth at the Priobskoye field has been probably too high in 2005-09 and the field may stabilize lower than 2009 even after pick-up in drilling expected in the next two years. Investors will be concerned that Priobskoye might repeat the Sibneft fate when its fast production growth phase (2001-05) was followed by a steep decline in 2006-08. This is also new.
The market had continued to have a positive view of non-OPEC supply growth 2010-2012 despite the warning signs that we have highlighted for months. We already saw Lukoil back down from their strategic growth targets (from 4-7% production growth to flat), predominantly due to the fact that under the current tax system that eats 90% of revenues, Caspian and West Siberian oil fields are uneconomical. Furthermore, the other Russians are declining steeply: Surgut's year-to-date production declined 3.2%, Tatneft declined 0.9% and Slavneft 3.7%.
Consensus on non-OPEC supply for 2009 versus 2008 calls for a 400,000 bpd increase, and the subsequent reduction of the call on OPEC, predicated on Russia growing to a level that offsets Norway-North Sea and Mexico declines.
I believe my bearish view on non-OPEC supply needs to be even more bearish for 2010, probably by 200kbpd given the capex, high tax and credit environment hitting Russia, Mexico and Norway.
So far YTD:
Norwegian volumes are at 2.24mbpd (below consensus estimates of 2.3-2.4mbpd)
Mexico volumes are at 2.65mbpd versus consensus at 2.96mbpd
Russian volumes are close to 10mbpd versus consensus at 10.3 mmbpd.
Total oil production by countries outside of OPEC averaged 50.1 million bbl/d during the first 3 quarters of 2009.