The discrepancy between Chinese imports continues to drive commodities. As seen below, Chinese copper and coal imports remain weak and trending down while oil imports are rising (see graphs below). Copper is down 1.8% MTD and 9.2% YTD, maybe as a vengeance against Chile for obliterating Spain mercilessly in the World Cup.
Oil continues to strengthen with Brent  at $114.074/bbl and WTI at $106.51/bbl despite yesterday's bearish DOE data. Crude drew 0.58 m Bbls vs. expectations for a 0.58 m Bbl draw. Cushing crude inventories built 0.25 m Bbls on the week and now stand at 21.4 m Bbls.  Gasoline built 0.79 m Bbls vs. expectations for a 0.39 m Bbl draw and distillates built 0.44 m Bbls vs. expectations for a 0.04 m Bbl draw. All products drew 0.35 m Bbls. Refinery utilization was down 0.8% vs. expectations for a 0.7% increase. Refinery utilization stands at 87.1% vs. a 5-year average of 88.2%.
Iraq update: The head of Iraq's state-run South Oil Company Dhiya Jaffar said on Wednesday that Exxon has carried out a "major evacuation" of their staff and BP had evacuated 20% of its staff. He said ENI, Schlumberger, Weatherford, and Baker Hughes had no plans to evacuate staff from Iraq following the lightning advance of Sunni militants through the country. (Reuters) Comments that the refinery in Baiji had fallen to attackers from the Islamic State in Iraq and Syria have been denied by the Malaki government.
Chinese oil imports have strengthened, driving the products market tighter and Tapis to $118.16/bbl, a premium over Brent.
Coal continues to weaken to $79.80/mt driven by weak Chinese imports (see graph below).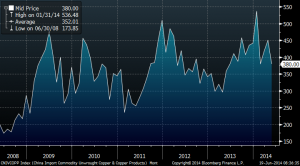 US gas remains well supported at $4.56/mmbtu. Consensus estimates a 112-Bcf inventory build this week vs. a build of 107-Bcf last week and a build of 91-Bcf last year at this time. Gas demand likely has decreased by 1.8-Bcf/d w/w, mainly driven by a 1.6-Bcf/d drop in power sector consumption.
UK gas continues to weaken, at 40 p/th, down 3.97% this month despite the Ukraine crisis, as Gazprom has reassured European markets will continue to be well supplied, Statoil has promised to increase exports if needed and inventories remain in the upper level of the 5 year average. Recent weak gas production from Norway (down 9% year on year) shows that Europe has not needed to increase its imports and demand remains weak.
Spanish power prices rise 89bps driven by low hydro production and extremely hot weather. Spanish power prices are the best performers this year of all continental power prices, with France down 5.86% YTD, Germany down 5.6% YTD, Nordpool down 9.6%, UK down 16.9% and Spain only down 1.2%
Important Disclaimer: All of Daniel Lacalle's views expressed in his books and this blog are strictly personal and should not be taken as buy or sell recommendations