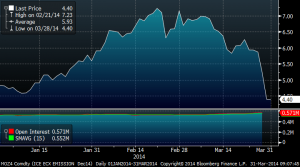 CO2 continues to collapse (-41.8% MTD, -16% YTD) after the EU intervention has failed to address the massive oversupply of free credits  and demand continues to fall.  CO2 trades at €4.5/mt (31st March 2014). It traded as high as €35/mt in 2008. -87.7% from the peak, or a massive -30.7% per annum for a "politically designed" commodity created to desincentivize CO2 emissions.
Same story over and over: Oversupply meets falling demand:
–  Oversupply: The market reserve mechanism was introduced by the EU because even once CO2 backloading is applied, the oversupply of CO2 in the EU ETS will trough at around 1.5bn credits. The reserve mechanism will be used when the total number of allowances in circulation, defined for a single year as all the allowances and international credits issued from 2008 to that year, less the total emissions produced and any already in the reserve (basically the oversupply of the system) is above a certain level. This means that oversupply of emission rights in any given year will continue to be around 2bn tons of CO2 to 2020 in the most optimistic scenario. The supply of CO2 (EUAs) has exceeded demand by at least 20m Mtons almost every month since 2010. 
– Demand down: In the EU, 2013 verified emissions for the EU-ETS will be 3.8% lower yoy, and will reach 1.79bn tCO2, while ETS demand for 2014 is expected to fall another 3%. 
According to SocGen, CO2 emissions for the largest four sectors in the EU-ETS comprise nearly 95% of all emissions, historically. Combustion installations are by far the largest contributor, emitting over 70% of all CO2 in Europe. Verified emissions for combustion installations in 2012 were 11% lower than their 2007 peak, mirroring similar decreases in electricity consumption across Europe. Emissions from energy-intensive industries, like mineral oil refineries, pig iron/steel, and cement clinker/lime production have essentially stagnated since 2009, after a material drop coinciding with the beginning of the recession.
The European Union is 30% of the emissions of the world, but (hold on) 100% of the cost as no other country has adhered to emission trading schemes. Therefore, a slowdown in industrial production and a debt crisis that could delay the extremely aggressive and optimistic plans for a low carbon economy announced for 2030, added to the slow but sure slowdown in power demand is proving that a system that was artificially created is causing the demise of a government-forced scheme that ultimately was only a tax.
CO2 (as I mentioned in 2009) is a "fake commodity" artificially invented, where demand and supply are imposed by political entities… and it still does not work. Neither the Copenhagen, or Cancun summits, or the efforts of several investment banks and environmentalists have helped to raise the price. Interventionists were rubbing their hands at the prospect of increasing the price of CO2 through more than questionable environmental policies, and now they need to find inflation through imposition.
Unless we see a much more drastic approach from the EU to address the oversupply of EUAs the picture is not positive. But at the same time, a drastic approach attacks the economic recovery and adds a burden to industries all over Europe, so I would not count on it. According to Citi it would require a 14% increase in power and industrial demand to start to address the oversupply of EUAs.
In summary, lower industrial demand is driving emissions lower, and a miscalculated free rights scheme continues to show a massive oversupply.
See more at: https://www.dlacalle.com/why-co2-collapsed-20-in-two-days/
Further read: https://www.dlacalle.com/co2-collapses-to-all-time-low/