The massive difference in competitiveness between the US and Europe is now at worrying levels, according to EU president Barroso. The price of gas and electricity is almost double in Europe vs the US.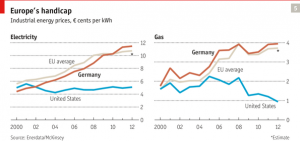 The alleged benefit of renewables in lowering wholesale power prices has not been reflected in bills.
German wholesale power prices have fallen 39.59% in the past five years, driven by a collapse in coal (-39.4%) and the cost of CO2 (-68%).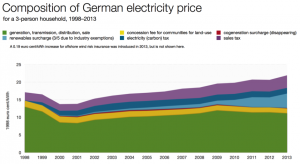 However, the green energy revolution has made average household bills rise 79% and small and medium enterprises costs rise 75% as the renewable subsidies rose. The annual cost to support German renewable feed-in tariffs is €23.6 billion.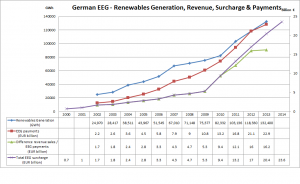 According to the FT, power prices paid by Germany's Mittelstand companies "have reached twice the level facing some of their US rivals, a study has shown, underlining the threat posed to the country's competitiveness by its shift to renewable energy". "A typical medium-sized German industrial company pays 9.14 euro cents per kilowatt hour compared with 4.82 cents/kWh in Texas, according to research carried out by Ecofys, a consultancy, and the Fraunhofer Institute for Systems and Innovation Research. The study, commissioned by the German government, is based on prices paid over the past two years".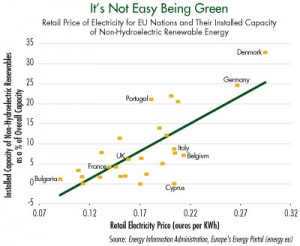 In Spain, the regulator CNMC states that renewables have been the main cause of tariff hikes. They are 44% of the tariff's regulated part, which is 62% of the total. Renewable energy premiums rose +435% 2006-2014.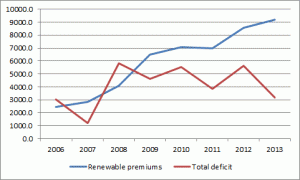 Forecasted demand was 300Twh and ended with real demand of 250Twh. Renewable capacity reached 22.573MW too fast, exceeding all needs. In the case of solar, a 914% more PV than forecasted.
Regulation since then has been deliberately set to avoid new capacity additions.
Renewable companies are always talking about "grid parity"…. next year. But the problem is large and the issue is now.
Energy displacement can only happen if costs are low. If not, it's shooting ourselves in the foot.
Presentation from the Spanish Minister
Germany's Green Energy Is An Expensive Success
Important Disclaimer: All of Daniel Lacalle's views expressed in this blog are strictly personal and should not be taken as buy or sell recommendations.