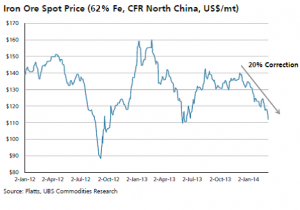 Same as with copper. China slowdown means trouble for iron ore. More supply and less demand.
China is the world's biggest buyer of iron ore, accounting for 63% of global imports last year. China will import a total of 872 million tons in 2014, and 916 million tons in 2015 according to official Chinese estimates. However, this figure is likely to be revised down. The country's crude-steel production may total 802 million tons this year, from 803 million tons estimated in December, and increase to 819 million tons in 2015. This improvement doesn't reduce the oversupply. Macquarie's China steel survey also highlights disappointing demand indicators after Chinese New Year.
UBS points out a downside risk to 3% China's steel growth outlook. Added to this the China credit concerns and the fact that Chinese port inventories are up 57% year-on-year adds to a concerning outlook for demand. As I wrote here months ago… Careful with China.
Moving to the supply side, the fact that producers are happy to increase output even if prices fall to $70 (breakeven) means that large iron ore producers like Rio Tinto Group and BHP Billiton Ltd will not take action to reduce oversupply. According to Macquarie BHP & Rio continue to invest pro-cyclically "whereas we believe it should be the dividend that flexes to reflect business conditions while keeping capex steady through the cycle". What's more, recent acquisitions are a reminder that both have been poor at picking the cycle historically.
New iron ore supply from Australia may total 92 million tons this year, pressuring prices in the second half, according to Standard Chartered in a Bloomberg news report.
Standard Chartered bank predicts a global surplus of 136 million tons in 2014, increasing to 170 million tons in 2015, from a 77 million ton deficit last year.
I see the same pattern as with crude, coal and copper. Excess supply brought to the system to "accommodate" the "high growth" in Chinese demand is meeting the reality of overly optimistic expectations of Chinese industrial output growth.
When producers overestimate demand from the largest customer by far… Things get nasty.
Remember what I said on copper… domino effect. Good for importers, though :).