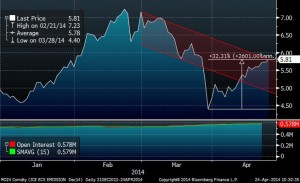 Carbon has seen a decent bounce after the collapse back to €5.80/mt (albeit nowhere close to the highs of €20/mt seen a few years ago). Carbon is trying to climb back after the recent sharp correction. I commented a few reasons for the fall in prices here.  Now to the recovery…
What is driving prices higher?
. Kickstart of the carbon backloading plan, which sets aside 900m carbon certificates on a temporary basis. Backloading is implemented in 2Q 2014 after a 3-month scrutiny period and lasts until 2016. However, the 900 m certificates will be re-injected in 2019-20 again, so the oversupply is not addressed unless we see massive increase in thermal demand, which is unlikely given oversupply in generation and renewables rollout. As UBS points out "9GW of new efficient coal plants with marginal cost not higher than €30/MWh will enter the system by 2015, with a negative effect on dark spreads. In combination with declining power demand and renewables capacity growth (5 GW), we see little reason for a bullish view on generators".
Market is very oversupplied, but the implementation of backloading has already started. So what we are seeing is a liquidity driven squeeze, not a fundamental shift in supply-demand. The most optimistic scenarios from analyst estimates see oversupply lasting until 2030 (UBS sees 2032).
Oversupply of EUAs has gone from 500 million metric tonnes in 2010 to 900 million metric tonnes in 2014 and despite backloading it is expected to double by 2020.
Mr Bostjan Bandelj a director at Belektron in Ljubljana said on Reuters that "Even as backloading seems a done deal, prices are under pressure from government auctions and sales of allowances from a special reserve by the European Investment Bank in the next months."