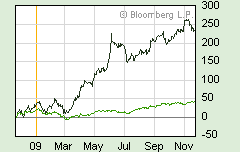 Dragon Oil and its takeover bid (rejected by big shareholders) is set to deliver a minimum 11.5% return.
The critical step is the Court Meeting and EGM of Dragon shareholders which are scheduled for 10.00 and 10.15 on December 11th respectively, at the Grosvenor House Hotel in London.
ENOC needs to achieve 75% of the minority votes by weighting and 50% of the number of votes cast. While the decision to hold the meeting in London rather than in Ireland may appear to place an obstacle in the way of smaller Irish retail investors, voting may be done by proxy up to 48 hours before the Court Meeting. I believe that the vote will be tight, as already indicated by the statements of rejection issued by some of the major shareholders, and the failure of ENOC to respond by even a small increase in the bid strongly confirms that the 455p reflects what ENOC can afford to pay, not what the assets are worth.
The statement repeats that ENOC has undertaken not to sell its shares in Dragon until at least August 2009. If the offer lapses, ENOC could sell its stake at a higher price. So 11.5% is a minimum to make,